Letter from the Head - 26th November 2021
In this issue: Open Evening, our Prefect Team, Ms Smith represents GB, and a reminder on phones
Dear all,
It has been a sombre week, following Monday's sad news that Mrs Jones has passed away. But it has been eased by the students who have, without fail, been incredibly kind and compassionate towards staff. I have lost count of how many students have come to ask me if I am ok - a lovely gesture. We are all very grateful to them for their kind support.
Before I go on to this week's highlights, please can I remind parents that the use of mobile phones in school is banned at all times. Our students get this right almost all the time, but recently we have had a few incidents where students are using phones to contact family members during the school day. If there is an emergency, we do of course encourage students to go to reception who can make contact with you (or vice versa should you need an urgent message passed on), but where we are aware of a phone being used we will have no choice but to confiscate it. I very much appreciate your support with this - keeping the school a phone-free zone really helps to make the school a much happier place.
The main highlight of this week was of course Sixth Form Open Evening. It was of course great to see so many of our students there, but perhaps even more exciting to host so many students from other school's all over Gloucester. If our early indicators are right, it looks like next year's Year 12 will join Year 7 in being oversubscribed - but the good news is HP students will always get priority for Sixth Form places! Applications are now open so Year 11 students should click here to apply online.
PE have had a busy week, with girls and boys fixtures against Ribston, Chosen Hill, Severn Vale, Barnwood Park, Gloucester Academy and Severn Vale. It was great to see students from so many different year groups - including the Sixth Form - representing the school. Special mention goes to the Year 9 boys' rugby team, who notched up a 90-5 victory - a record score!
But the stand out PE performance has to go to Ms Smith, who is currently in Dubai representing Great Britain in the World Rugby 7 Series. I'm delighted to report that GB have kicked off their campaign with a 27-15 win over Ireland and a 12-7 victory against Russia. We wish Ms Smith and the rest of the GB team the best of luck in their coming fixtures.
Finally, I'm very excited to share that we have appointed our first ever team of Prefects. Drawn from the Sixth Form, these students will be working alongside staff to support the rest of the school at break and lunch, and will join our existing House Captains to form an expanded Student Leadership Team.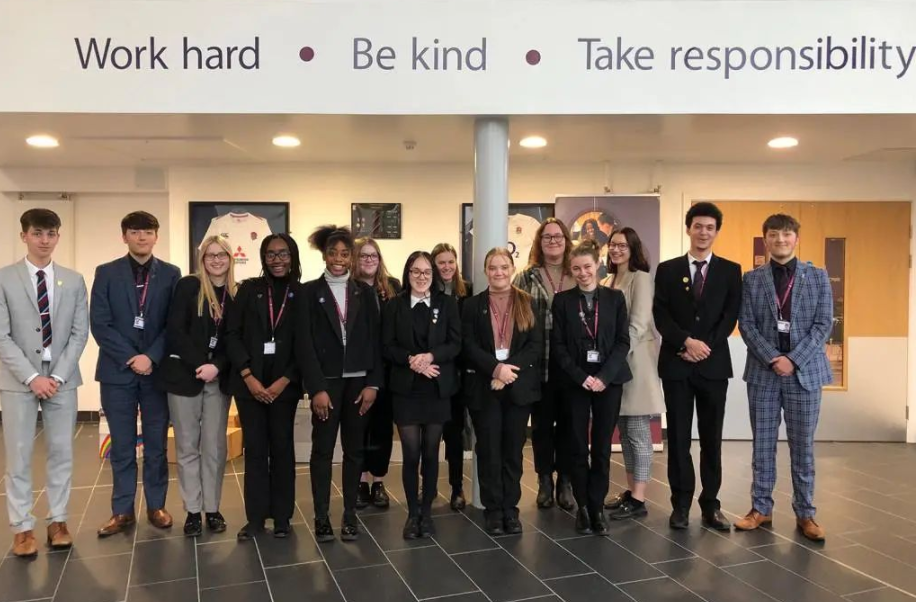 Congratulations to the new team: Caitlin S, Charli C, Ellie F, Favour E, Inga R, Jacob S, Jessica B, Jessica L, Jessica S, Libby P, Michal H, Mikolaj H, Riley S, Sienna H, Success E
I hope you and your family have a wonderful weekend - perhaps with this winter's first snow tonight!
Mr Farmbrough
Headteache