Letter from the Head - 21st July 2021
In this issue: The final house competition results, a round up of the year, and important details for next September.
Dear all,
While it's only been a half week, we've crammed a lot in!
Students have done brilliantly to cope with some very warm weather, and my senior team and I were giving out iced lollies on the gate today to say well done!
But the main announcement today was the results of the House Competition! After a fantastic year-long competition comprising of over 40 different events across the year, the House Competition has drawn to a close. Huge congratulations to Meteor for a very narrow victory - with only a hundred points between the four houses, it's been a fantastic contest. I was therefore delighted to present the House Competition Trophy to Mr Mortimer this morning - making it a Meteor double of Sports Day and the House Competition. As you can expect, Mr Mortimer has spent the entire day winding up staff in the other three houses, while Meteor students have all spent at least some of the day out on the field enjoying an inflatable fair and unlimited ice cream - hopefully with no bubbles next year we'll be able to put on a bigger event! Next year's contest starts on the first day back, and we've got some exciting new events planned so I'm very much looking forward to it!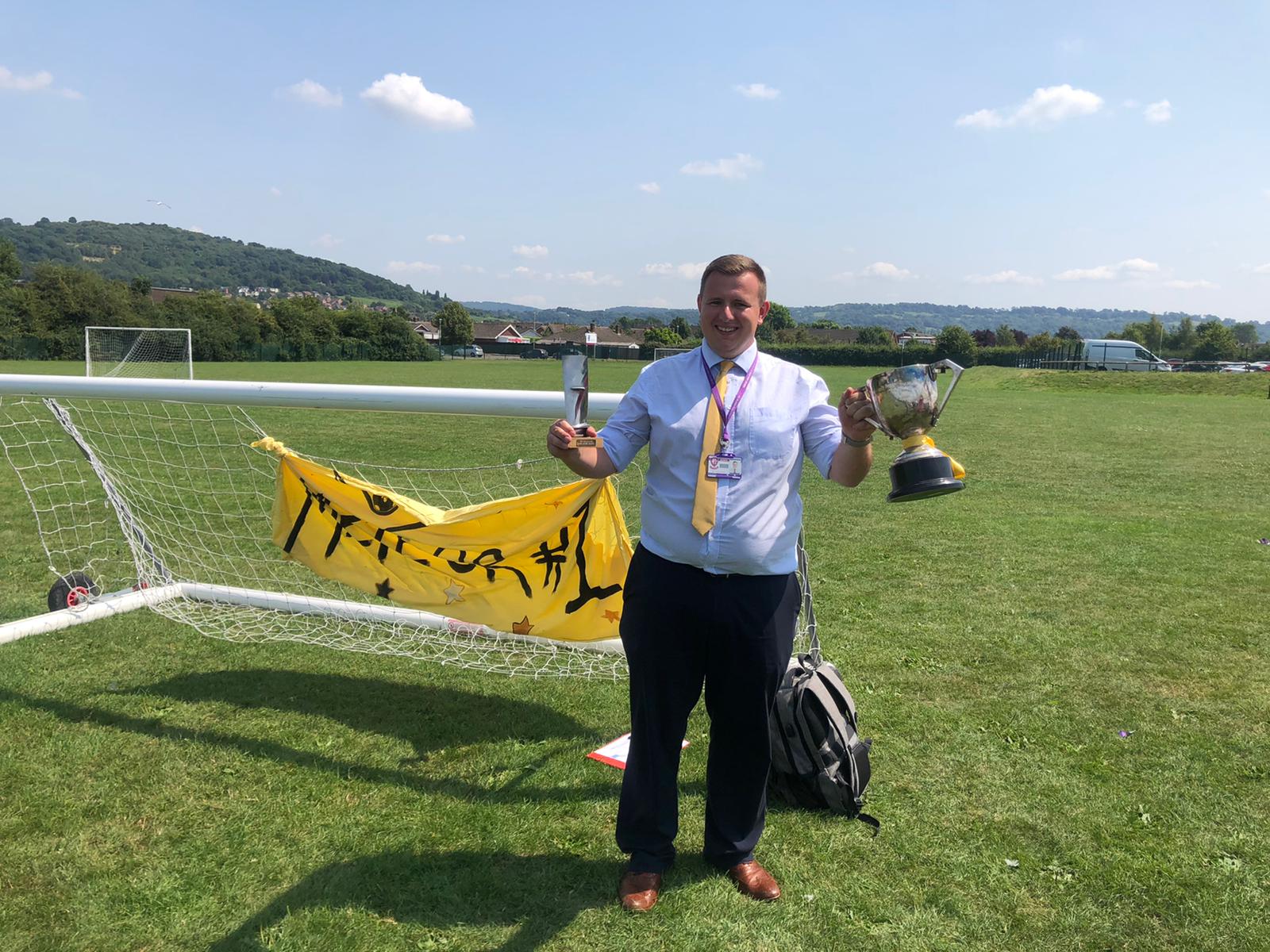 I also spent a hugely enjoyable Tuesday night at the Year 11 Prom. After having to postpone the first date, it was wonderful to spend an evening with such a fantastic group of young people. Along with Year 13, they have coped with so much disruption and uncertainty this year and never allowed it to knock them of course. We look forward to seeing both year groups for their results days in August (Tuesday 10th for Year 13 and Thursday 12th for Year 11). We'll be sharing photos once we've finished uploading them so keep an eye on our Instagram Feed.
I'm hugely looking forward to most of them returning for Sixth Form next year - we have now had over 200 applications for Year 12 spaces so it's fantastic to see the Sixth Form growing in popularity. We've also got our largest ever intake in Year 7, and I can't wait to meet them all at our induction day.
2020-21 has been a hugely challenging year - I'm certainly more tired than I think I've ever been! - but as I look back at the last twelve months I'm also filled with pride in how our school community has met every challenge in our way, and continued to surge forwards.
There have certainly been challenges along the way. The second national lockdown in January and February was hugely challenging for both staff and students - as was the process of organising mass testing to get everyone back in March! Coping with rising COVID rates and trying to get the balance right between safety and keeping students in school has been incredibly difficult. Although we've isolated considerably fewer students than the local average, I understand that it's still incredibly frustrating, and I'm so grateful to all of you for your patience and understanding when we've had to send your children home.
I particularly want to thank the staff, who have without fail been exceptional. Just today, we had 21 members of staff required to stay at home by Track and Trace (none of them had tested positive). This meant that a total of 53 lessons had to be covered by staff on top of their normal teaching load. It has been like this for weeks, and I haven't heard a single complaint once. I'm so, so grateful to all of the staff who have gone above and beyond every day this year to keep the school going in as normal a fashion as possible.
Your children have been fantastic too - showing tremendous stoicism, never allowing the various lockdowns, remote learning, lateral flow tests and so on to knock them off track. It's an absolute pleasure to be part of such a hard-working and caring community.
And of course - the work of improving our school goes on. I'm incredibly proud to show visitors round Holmleigh Park these days, and I absolutely believe the school is unrecognisable from two years ago. But that doesn't mean we've got everything right - we haven't. We still have more work to do to improve teaching and learning, so that every minute of every lesson is as productive as it possibly can be. Behaviour in lessons is excellent, but I'm very keen to see both OSP referrals and exclusions go down - particularly for conduct at break and outside of school, where we still have some work to do. Communication is improving, but could still be better. And while I'm delighted that 90% of parents in our survey would recommend us as a school to their friends and family, I won't be satisfied until we get that number to 100%. We've got some big plans next year to help us on our journey, and I'll be sharing these with you in September.
Returning to School
We are looking forward to welcoming students back in September. Please can I ask parents to note the following details:
1. Mass Testing
We have once again been asked to give all students the opportunity to take two Lateral Flow Tests when they return to school. The first round of tests will take place on Thursday 2nd and Friday 3rd of September. As before, students should come in only at the allocated time, and head home immediately after their test. They do not need to wear uniform. Students will then have a second test on either Monday 5th or Tuesday 6th September (during the normal school day).
A letter with full details will follow next week, but I wanted to make you aware of the schedule with as much notice as possible. As before, your child will only be tested if you have given your consent for this.
Year

Time

7

Surnames beginning with A-L: Friday 3rd September, 08:30-09:30

Surnames beginning with M-Z: Friday 3rd September, 09:30-10:30

8

Surnames beginning with A-L: Friday 3rd September, 11:15-12:00

Surnames beginning with M-Z: Friday 3rd September, 12:00-12:45

9

Surnames beginning with A-L: Friday 3rd September, 13:30-14:20

Surnames beginning with M-Z: Friday 3rd September, 14:20-15:10

10

Surnames beginning with A-L: Thursday 2nd September, 14:15-14:45

Surnames beginning with M-Z: Thursday 2nd September, 14:45-15:15

11

Surnames beginning with A-L: Thursday 2nd September, 13:15-13:45

Surnames beginning with M-Z: Thursday 2nd September, 13:45-14:15

12

All students: Thursday 2nd September, 12:15-12:45

13

All students: Thursday 2nd September, 12:00-12:15
2. First Day Back
Please can I remind parents of the following times and dates for year groups to return:
Year 7 and Year 12 will begin at 08:30 on Monday 6th September.

Exam groups (Year 11 and 13) will return at 09:45 on Monday 6th September.

All other students (Years 8, 9 and 10) will return at 08:30 on Tuesday 7th September.
3. COVID Measures
As per my previous emails, please note that guidelines for schools change over the holidays. I have written to parents already regarding these, but please can I remind you that from September, the main changes are:
Holmleigh Park will no longer carry out contact tracing if a student tests positive for COVID-19. Instead, NHS Test and Trace will work with the affected family to identify a small number of close contacts.

We will no longer notify parents of each positive case in real time - but I will continue to update you on overall case numbers through my weekly letters.

Those close contacts will be advised to take a PCR. If this is negative, they will be able to return to school instead of self-isolating.

We will no longer operate a bubble system for lessons (although we will be keeping the social time bubbles as the feedback from both parents and students has been very positive!.

If we detect a surge in the number of cases in the school, we will consult with Public Health England, and may temporarily reintroduce some restrictions like bubbles, facemasks etc.
4. Uniform and Equipment
We're very keen to ensure students have a smooth start to the academic year. Please can I ask for your support with making sure your child's uniform is correct. In particular, please can I remind parents of two particular things:
First, that trousers should be a sufficient length (down to the laces). We have given some leeway over this in the past few months as we recognise this has been a very disrupted year, but September is the ideal time to ensure that our expectations have been reset.

That the only facial piercings that can be worn are a single pair of plain silver or gold studs in the earlobe. If your child is planning on getting an additional piercing over the summer, please ensure they do so at the start of the holiday so that the piercing can be easily removed by September!
5. Holiday Homework
It's important that students have a good break over the holidays, but it's also important that they complete a little bit of work to keep their brains ticking over (particularly for Years 10 and 12 who have exams next year!). We'd therefore encourage students to remain engaged by:
Years 10 and 12 - completing the revision tasks set by their teachers.

Years 8 and 9 - Continuing to complete Tassomai, Bedrock and Hegarty tasks

Year 7 - Continuing to complete Tassomai and Bedrock (unfortunately Sparx is offline for maintenance over the Summer!)
6. Timetables for Next Year
Please note that students can now view their timetables for next year through Edulink (they will need to change the date to next year). We will also provide students with paper copies in September.
With that in mind, all that remains is for me to once again thank you for your support over this year, and to wish you and your families a very restful and relaxing summer holiday.
Best wishes,
Mr Farmbrough
Headteacher