Letter from the Head - 16th July 2021
In this issue: Sports Day Results!
Dear all,
This week's letter is a relatively brief one, as I'll be sending a bigger end of year letter next week.
Please can I first of all remind parents that COVID-19 regulations change from 19th July. The most immediate change is that from Monday, NHS Test and Trace will take over responsibility for COVID-19 contact tracing. This means once a student tests positive on a PCR test, it will now be Test and Trace who carry out contact tracing. They may therefore contact you and ask your child to self-isolate for up to ten days. However, Holmleigh Park will no longer be asking students to self-isolate.
I will write again with details of the other changes (which take effect from September), but I wanted to flag this to you again as it takes effect from Monday.
The main news for this week, however has been Sports Day, which took place on Wednesday.
After a series of track and field events in the morning, the entire school came out to watch the 100m and relay finals in the afternoon. Although students were sat in bubbles, it was actually the first time since March 2020 that we've had the whole school in the same area, and the excitement it created was just tremendous. It was wonderful to see students getting so excited about their houses, with face paints and flags completing the look.
We've uploaded lots of photos onto our Instagram, along with videos of all the final races taken from a drone! You can find them all here, so please do take a minute to check them out!
All of the houses were just fantastic, but congratulations go to Meteor who carried the day, beating Javelin by just a few points. As you can see, our Head of Meteor, Mr Mortimer was pretty pleased with himself!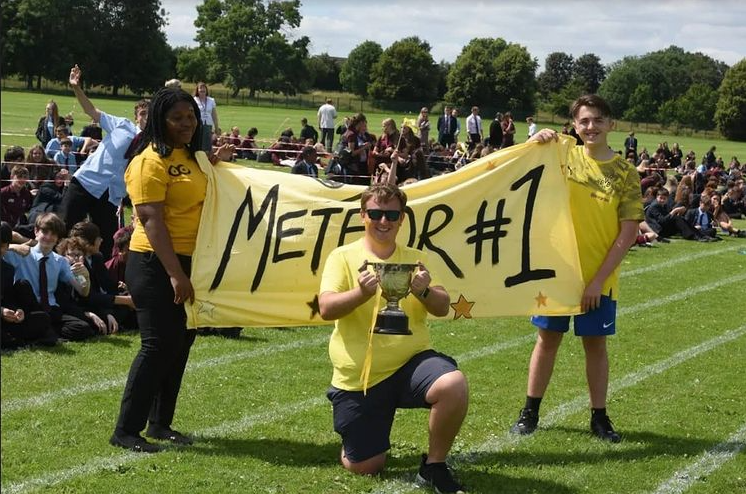 All of the points count however, so the overall House Trophy is still too close to call going into the final week. I'm looking forward to giving out our brand new trophy, which was presented by the Jet Age Museum this week. In line with our Houses, the trophy is a turbine blade from a Tornado aircraft, which I'm sure you'll agree makes for a unique trophy!
Have a lovely weekend,
Mr Farmbrough
Headteacher