Letter from the Head - 15th January 2020
In this issue: Online Learning highlights, the return of Fun Friday, and an exams update!
Dear all,
It's been an excellent week!
First of all, those students who retook English and Maths GCSEs in November received their results, and I was thrilled to see that all students managed to improve their grades, with 75% of English and 60% of Maths students passing their resits - congratulations to them all! For comparison, the national rate of success was 27% in English and 17% in Maths.
Students have also been getting back into the stride of online learning, and I wanted to share some statistics with you. Just this week, we estimate HP students have:
Spent 1,600 hours in live tutor time

Watched 14,000 hours of on demand video lessons (Years 7-10)

Completed 5,800 hours of live lessons (Years 11-13)

Uploaded a staggering 27,000 pieces of work to Google Classroom
After my last letter, I was very heartened to receive several emails from parents commenting that the balance of live tutor time but prerecorded lessons in Year 7 is appreciated; I think this combination gives a good balance between a structured day with face to face contact and giving families flexibility to fit their learning around their schedules and internet access. I was pleased to see that OFSTED produced their report on online learning this week which stated that live lessons are not a gold standard, and are not neccessarily more effective than prerecorded lessons.
We have also been continuing to phone home, and have called each family at each once. We'll endeavour to do this weekly as long as we remain in lockdown, so we can keep you as up to date as possible.
As you may know, we also have a Fun Friday challenge every week. This week's competition is a photography one, with the theme of "Winter Wonderland," so I'm looking forward to sharing the winner next week!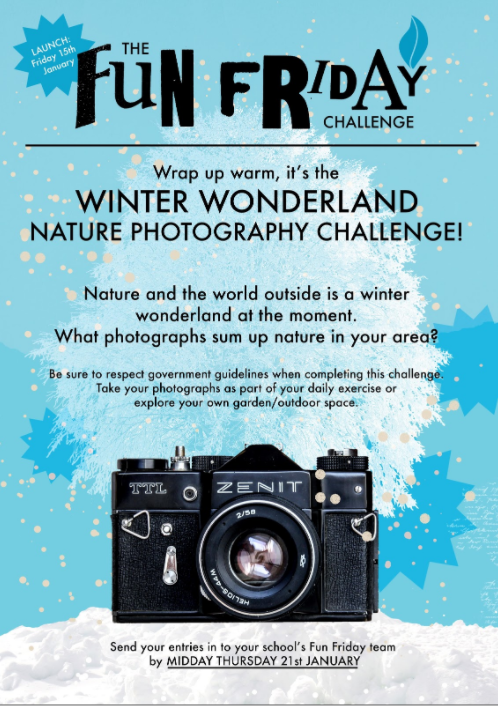 Finally, a brief update on A Level and GCSE exams for this summer. On Wednesday, the Secretary of State for Education made it clear that there would, after all, be some form of assessment this summer. Although these won't be regular GCSE/A Level papers, I suspect what we end up with will turn out to be quite similar. The key message, therefore, for Year 11 and 13, is to keep preparing as they have been. When we know more (including on vocational exams, which we have yet to hear about), we will be sure to update all students.
Best wishes, and have a lovely weekend,
Mr Farmbrough