Letter from the Head - 17th December 2020
In this issue: A fantastic end to term, and an update on returning in January.
Dear all,
This term has been absolutely exhausting and unlike anything I've ever known in education. Despite this, Holmleigh Park continues to surge forward. A few highlights have really stood out this term:
Our Year 11 mock results were fantastic - on average around a grade higher in each subject than Beaufort's 2019 results. In a year in which most schools are reporting Year 11 are seriously behind, this is testament to our students' phenomenal work ethic. I'm very confident they'll be walking away with some of the best exam results in Gloucester this summer!
Our Sixth Form is on track to expand, with close to double the applications we received last year already!
This week saw some fantastic house sport matches. This year, we had twice the number of students involved last years - including every single Year 7, 8 and 9 student representing their house. There are too many photos to share here, but do check out our Instagram for lots of great pictures!
A particularly strong showing from Typhoon, winning the Year 8,11 and Sixth Form competitions has seen them regain the top spot, finishing the term over 50 points clear of Meteor in second.
My highlight, however, has been awarding our first set of Holmleigh Park colours. These are very hard to achieve; students have to be nominated by a staff member, seconded by their Head of Year, and then voted on by the Colours Committee. There's more information about the different awards here, and I've included at the end of my letter a full list of the winners; congratulations to them all!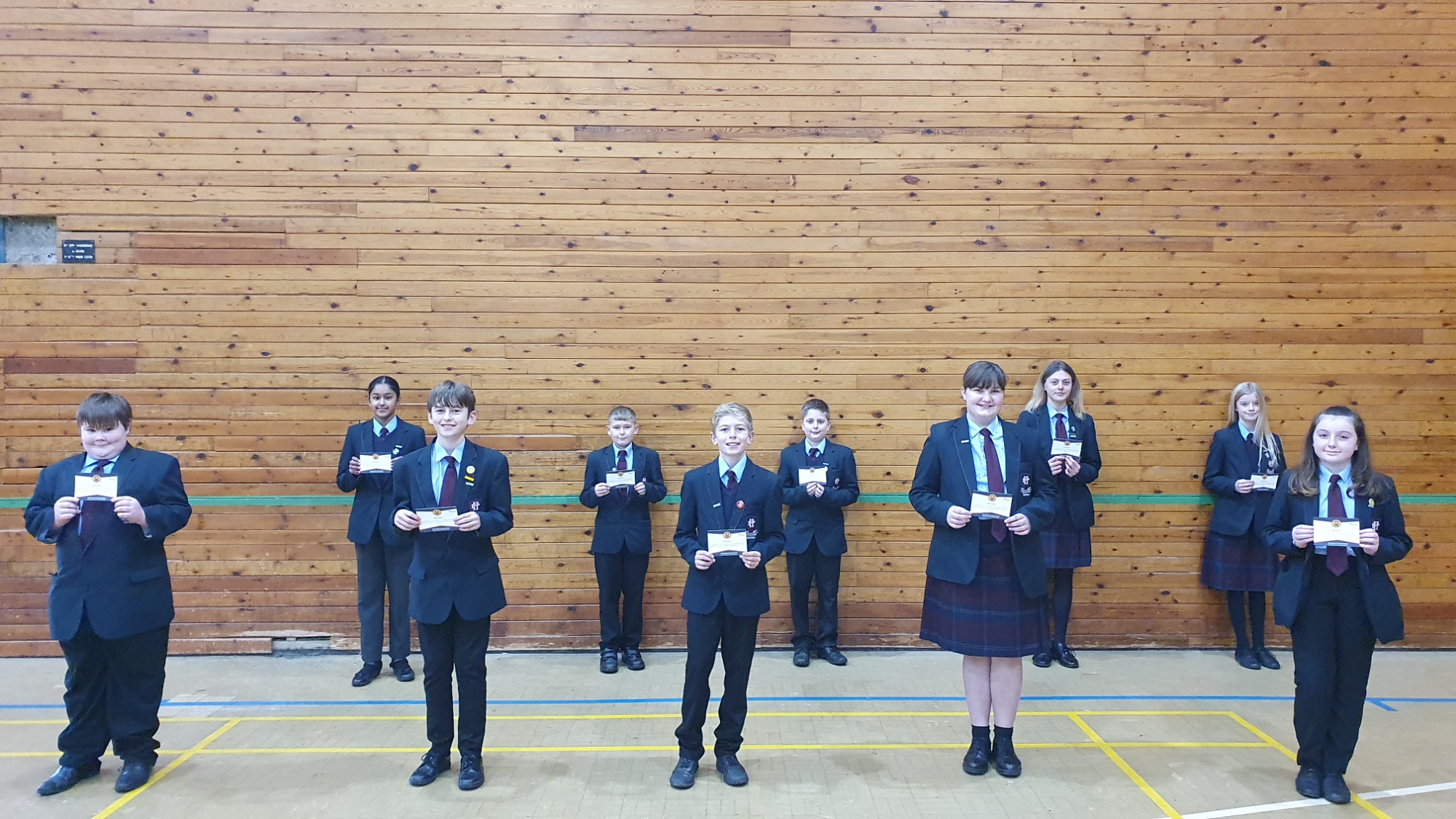 Our Year 7 Colours Winners
You may have also seen on the news that the government have made two significant announcements this evening.
First, schools will have access to mass rapid testing for COVID-19 from January.
Second, to give us time to organise and prepare a testing programme, there will be a staggered return to school:
Year 11 and 13 students will return to school as planned on Wednesday 6th January, along with selected Year 12 students who have an external exam (we will contact you to confirm if you fall into this group).

We will offer a limited provision on those days for children of key workers. Please email [email protected] if you intend to send your child in, but I would respectfully ask that you only use this service if it is absolutely necessary.

All other students will be set work on Google Classroom from Wednesday 6th - Friday 8th January, and then return to school on Monday January 11th.
I am currently working on our plan for testing, and will be in touch before next term with further details and to ask for your consent. I am sorry I can't yet give you full details - Headteachers were only given the details of this staggered return and testing strategy today. I know that many announcements have this term have felt rushed, and I am as frustrated by this as you are, but I wanted to let you know about the term dates immediately to try and reduce any inconvenience.
Finally, one important request: If your child tests positive for coronavirus at any point up until the 24th December, please email [email protected] to let us know. This is so we can let anyone who may have been a close contact know.
I'd like to end by thanking you for the messages of support many of you have sent to me or other staff. This has been an incredibly difficult term, but your support and positivity has made it that little bit easier for us all.
I hope that you have a wonderful break, and that 2021 brings us all some much-needed normality!
Mr Farmbrough
Headteacher
Year 7
Junior Colours for Academia: Holly M, Tom E, Kayn K, Dennis G, Susannah V
Junior Colours for Sport: Daniel J, Bobby W, Libby K, Martha N
Junior Colours for Values: Elliot D, Annalise G
Year 8
Junior Colours for Academia: Bailey L, Olivia P, Jacob D, Anamika J
Junior Colours for Culture: Archie F, Adara M
Junior Colours for Sport: William S, Esme S, Lois E
Junior Colours for Values: Jessie-May M, Madison A
Year 9
Half Colours for Academia: Kerris H, Lance T, Finlay G, Maddison M
Half Colours for Sport: Olliy G, Ryan G, Allison M
Half Colours for Values: Riley M, Kyle B, Carter N, Eva W
Year 10
Half Colours for Academia: Fabio V G, Niamh HW, Amy C, Megan P, Cheyanne J
Half Colours for Culture: Harry J, Jack R
Half Colours for Sport: Megan P, Ellie J, Ronnie N, Sam G
Half Colours for Values: Amy C, Sanjith S
Congratulations especially to Amy C and Megan P, for being the only two students in the school to receive colours in two fields!
Year 11
Full Colours for Academia: Ellie F, Jacob S, Leo C, Mikolaj H
Full Colours for Culture: Sienna H
Full Colours for Sport: Sophie M, Danielle C, Javaine D, Callum B
Full Colours for Values: Success I, Harrison M
Year 12
Full Colours for Academia: Josh R, Marek K, Tom W, Harry T
Full Colours for Culture: Katie L
Full Colours for Values: Sara K, Kiera B, Hadley W, Rachael C
Year 13
Full Colours for Academia: Imogen MD, Tyler A
Full Colours for Culture: Tyler M, Eva K, Natalie T
Full Colours for Sport: Ben G
Full Colours for Values: Jasmin S, Nicole B