Letter from the Head - Friday 18th March
In this update: Jubilee Bank Holiday, G15 Celebration of Success and House Bake Off!
Dear all,
We've had a great week - which has definitely been helped by the fantastic weather! My leadership team and I have enjoyed showing parents round - it's not too late to book a tour if you haven't already!
First, I want to update parents on the end of the academic year. As you may be aware to celebrate the Queen's Platinum Jubilee, an extra bank holiday has been called for Friday 3rd June. As this falls in half term for Gloucestershire, schools have been encouraged to move this so that students do not miss out. We have therefore opted to put this at the very end of the summer term, meaning that students will now finish on Wednesday 20th July (as opposed to Thursday 21st July as previously advertised).
Meanwhile, we've been cramming a lot into this week. Year 11 took their Speaking And Listening Assessments, delivering speeches which they'd written themselves. I know the English department were absolutely blown away by the quality of their answers. The Director of English across our trust came in to assist and I was delighted to hear that he felt HP's speeches were the strongest he'd heard this year.
Continuing the oracy theme, Year 9 and 10 have been taking part in speaking and listening workshops throughout the week. Again, we've been super impressed by the calibre of their contributions, with almost all students writing and delivering a speech to their peers. The facilitators were hugely impressed by the maturity and confidence students displayed.
And perhaps loudest of all, a big congratulations to those students who represented the school in the G15 Celebration of Success. HP students joined singers from all 15 Gloucester Secondary Schools to perform a concert in Gloucester Cathedral; huge thanks to Mr Goodway and Ms McJennett for organising it!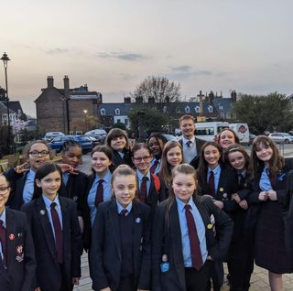 It's also been a great week in the kitchen! This week has seen our House Baking competition, with students in all year groups competing to see who could bake the best cakes. Having been involved in judging several year groups (a real hardship for me!), I can confirm that the quality has been exceptionally high. Following the judges, the cakes have been on sale each lunchtime with all money raised going to help victims of the conflict in Ukraine. We'll be sharing the winners and amount raised next week on our Instagram.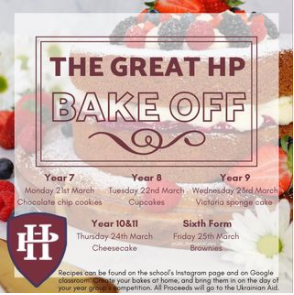 And finally, a huge well done to our Year 11 catering group, who have been taking their practical exams; we've been absolutely amazed by the quality of their work and will be sharing some fantastic examples once we are able!
With best wishes,
Mr Farmbrough
Headteacher