Letter from the Head - 1st July 2022
In this issue: A flying start for Year 10, and goodbye to our Year 13s!
Dear all,
Well, we've made it to July! It would be easy to take our foot off the gas at this stage, but I'm delighted to say we've done exactly the opposite.
First of all, a huge well done to Year 10, who have been absolutely incredible. This week saw them start Period 0, Period 5.1 and Period 6, and Champions' Hour. I was delighted to see that attendance to period 6 has averaged 99% over the week - an absolutely brilliant start. Perhaps even more encouraging have been the numbers of students then choosing to stay in school for Champions' Hour, remaining in the library until 17:00 to crack on with their revision. Based on the first week, they're going to do fantastically in a year's time.
Our other year groups have also been brilliant. Our exams team have been hugely impressed with the focus they've shown in their Rank Order Assessments, and I'm looking forward to seeing the results in a few weeks.
Outside of lessons, we've had another busy week. Year 9 enjoyed some fantastic first aid lessons, covering the basics of CPR - a hugely important skill. We're hoping to get the entire school trained up in this over the next few months so watch this space! The PE Department had a busy week - Monday saw a large number of students compete at a very successful day at the District Athletics, and we were also lucky enough to receive tickets to take a number of students to watch the cricket Womens' Test Match between England and South Africa.
Finally we also said a fond farewell to Year 13, who came back for a day of games on the field with a BBQ and Ice Cream Van... although I understand the highlight was the water fight whichended with a bucket of water being thrown over Mrs Marsden-Green! They have had a particularly tough time - being the first year group to have GCSEs cancelled due to COVID, then being the first year group to have to sit A Level and BTEC exams. They've been an absolutely brilliant set of role models to the rest of the school and we will miss them immensely.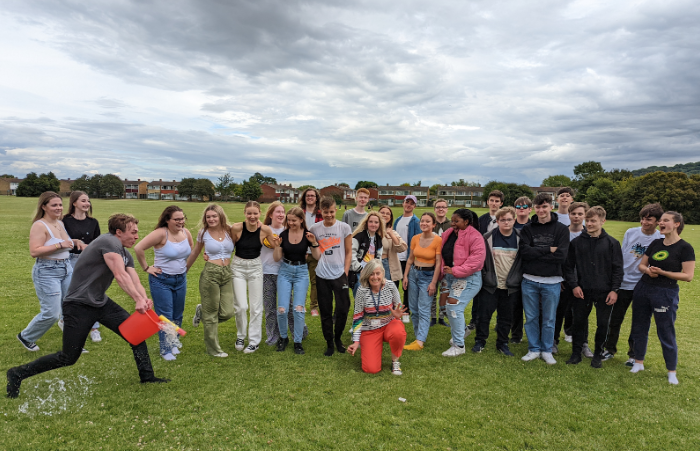 The weekend looks busy too - so good luck to our Year 10s completing their Silver DofE expedition this weekend - I'm heading off to meet them at their campsite this evening. Next week is even more so, with our Year 12 Biologists out on their Field Study, our Sixth Formers off to the Brecon Beacons for Gold DofE, and of course, most of Year 8 heading off to Yorkshire on their long delayed (thanks Covid!) Year 7 residential!
With best wishes,
Mr Farmbrough