Letter from the Head - 18th March 2022
In this update: Parent Survey Results, Officially Oversubscribed, and the Lion King cast is revealed!
Dear all,
I want to start with some very positive news. Earlier in the year, I shared that we'd received a record number of applications to join the school in September. Year 6 students have been allocated to their schools over the past fortnight, so I can now share that we have a large waiting list of over 50 students for Year 7 places. This is the first time we have had a waiting list at Holmleigh Park (or previously Beaufort) in the 20 years that we have records for.
This wouldn't have happened without your support - we know from talking to some of our incoming families that the main factor in persuading them to pick HP has been our reputation in the community, so I want to say a big thank you to those of you who have recommended us.
Of course, we also know we still have a huge amount of work to do to keep improving the school, and this makes today a particularly good time to share the results of our 2022 parent survey. Overall, the results were very positive and showed we have come a long way in the last two years. The survey has also identified several useful areas for us to focus on. I've included a summary of the results after my letter so please do take a few minutes to read through these.
In school, it's been a positive week.
Congratulations must go to the six students who headed down to Dartmoor last weekend for Ten Tors training. I had the pleasure of being their group leader, and they did absolutely brilliantly, surviving terrible weather on Friday night, and then getting up and climbing six Tors on Saturday while learning some advanced navigation techniques. Sadly, 60mph winds and driving rain meant we had to call off Saturday night's camping before the tents collapsed, but they nevertheless did brilliantly.
Congratulations too to our athletes for some particularly strong performances this week, and especially to the Year 10 girls for fantastic netball victories against KLB.
Last, but definitely not least, I'm delighted to be able to share with you the cast of our first school musical as HP, The Lion King. Ms McJennett, Ms Lewis, and Mr Goodway were absolutely blown away by the quality of auditions and I can't wait to see how it all comes together this summer. Well done to everyone below: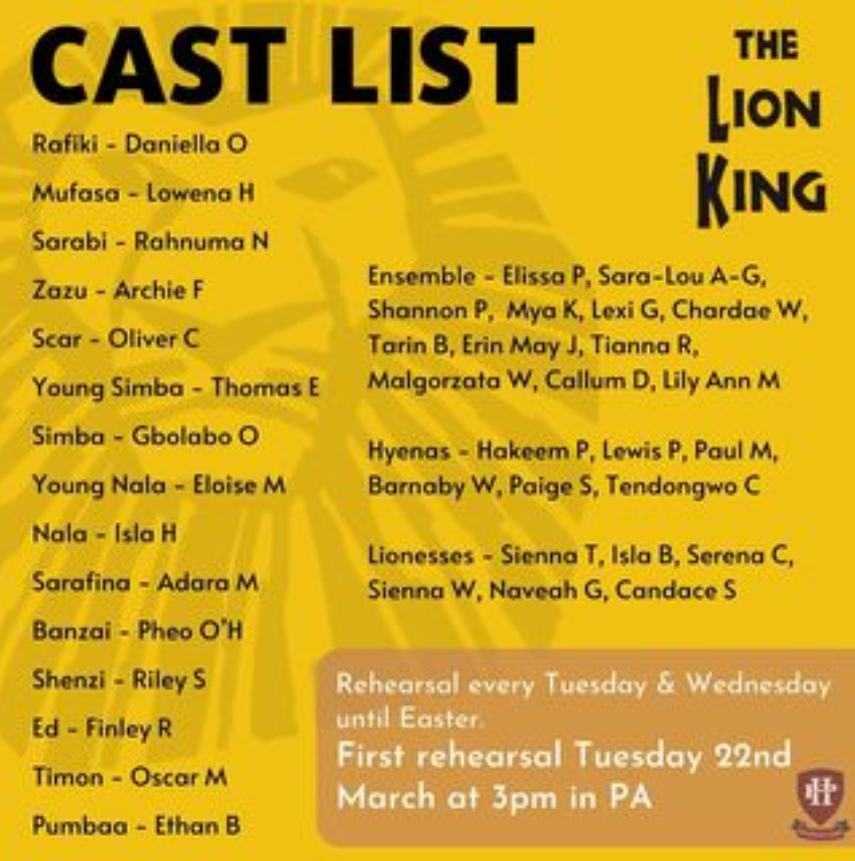 This weekend we have some of our student volunteers meeting in Tuffley to help clear litter from the local community, and next week our House Baking competition begins, so there's plenty to look forward to.
Otherwise, I wish you and your families a very happy weekend.
Mr Farmbrough
Headteacher
Parent Survey Results 2022
We had just under 200 responses, which my Senior Leadership and I have spent some time going through. What follows is only a summary, but I hope it's useful in showing the direction we're hoping to go in.
First of all, the feedback around leadership, teaching and behaviour was generally positive (in the charts which follow, blue is agree, grey is neutral, and red is disagree):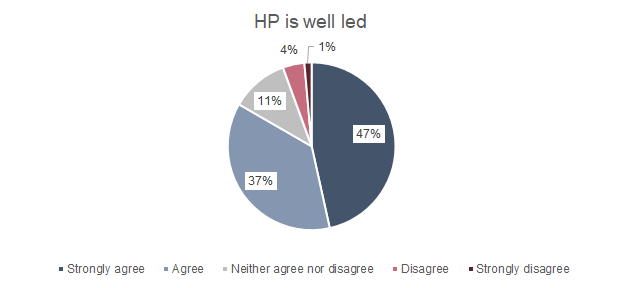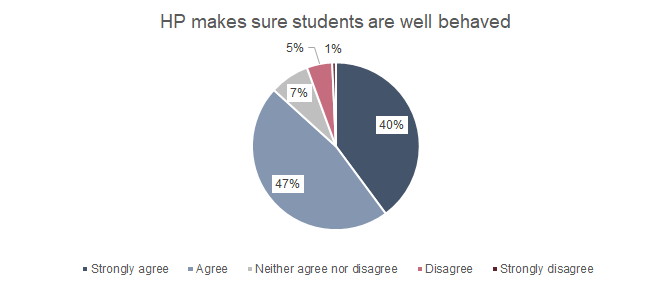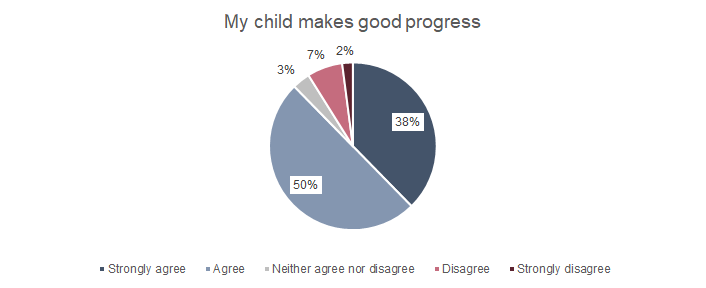 Those of you who have been with us for some time will recall that leadership, behaviour, and quality of education were the three biggest areas of concern for Ofsted, so it's encouraging to see we've made progress. As a result, the overall views on the school were also more positive than any time in recent years: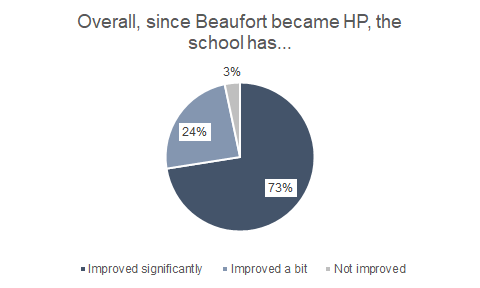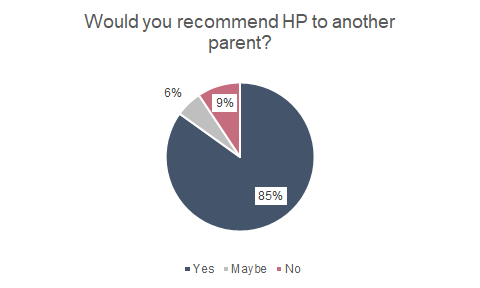 On the whole, I think these results are a fair reflection on the shool. We have come a long way in these core areas, but we still have work to do in each field to make sure that all families have a positive experience. As I've said before, if you have put disagree for some of the above - please do book in for a tour - these are taken by senior members of staff, and we'd be more than happy to talk about your concerns while we look round.
Looking at the school more widely, there are several areas which the survey has highlighted for improvement.
The first two relate to students' wider experience: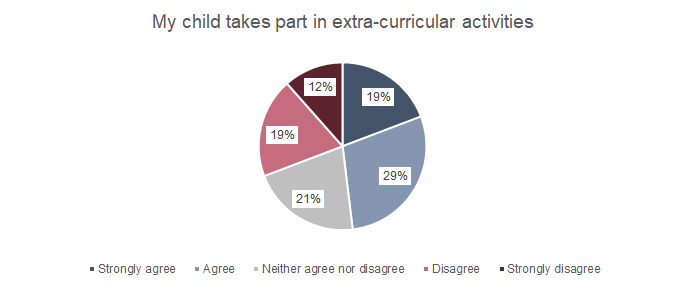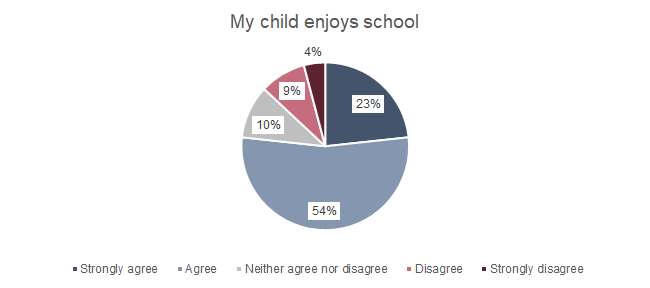 Although we've made some good progress here, with a significant increase in opportunities in sport, music, drama and other fields, I'm keen to further develop our extra-curricular offers, as well as introducing more fun activities at break and lunch. To an extent, COVID-19 has made this difficult, but making sure students access a wide range of extra-curricular activities is personally very important to me. We also have some work to do to make sure relationships - both between students, but also between staff and students - are as positive as possible so that all students genuinely enjoy school every day.
The next relates to reporting: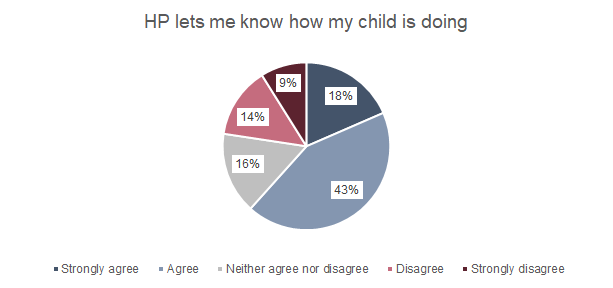 We absolutely recognise this is an area for development, and since September Mrs Barratt has been phasing in our new assessment system. Once this is fully in place, all students will sit two sets of assessments each year, and we'll send you a full breakdown of their scores after each assessment. We'll continue to have a parents evening each year - one thing we've definitely taken on board is that the Year 7 evening should be earlier in the school year. One thing we've already done is put our curriculum overview online, so you can look up what your child is studying at the moment - and for the rest of their time at HP too. Please be aware this is a work in progress so we'll be adding and updating information over the coming weeks.
The final major theme relates to healthy eating.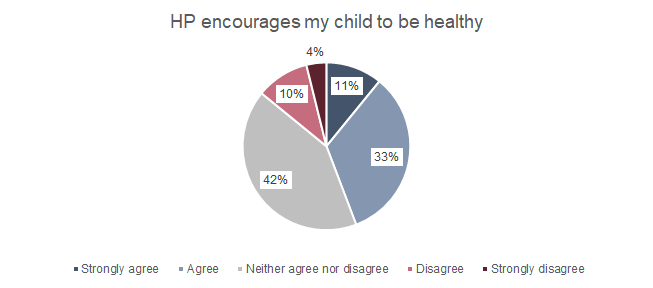 Our biggest area for improvement revolves around healthy lifestyles. Again, the pandemic has not helped here - particularly the requirement to serve individually packaged meals, and serving food from seven different points to help keep bubbles separate. Now that restrictions have been eased we are reviewing our catering offer with a view to offering lots of healthier options - particularly in the main canteen which is once again open to all students for a sit down meal.
There were 92 written comments, and although I can't go through all of them, there were three which were mentioned several times and are therefore worth commenting on:
First, the state of the toilets was raised as an issue - many of them are old and tucked away in hidden areas. I fully agree with this, and our site team have been working on these when they have had any available spare time. We have recently secured some additional funding, which means we can bring in external contractors to speed up this process, and we plan to do three more blocks over the summer. Like all the new toilets we've put in (example below), these new blocks will remove all cubicles and each toilet will instead be fully enclosed for maximum privacy. The wash area will be open plan rather than hidden away, which has been repeatedly shown to significantly reduce bullying.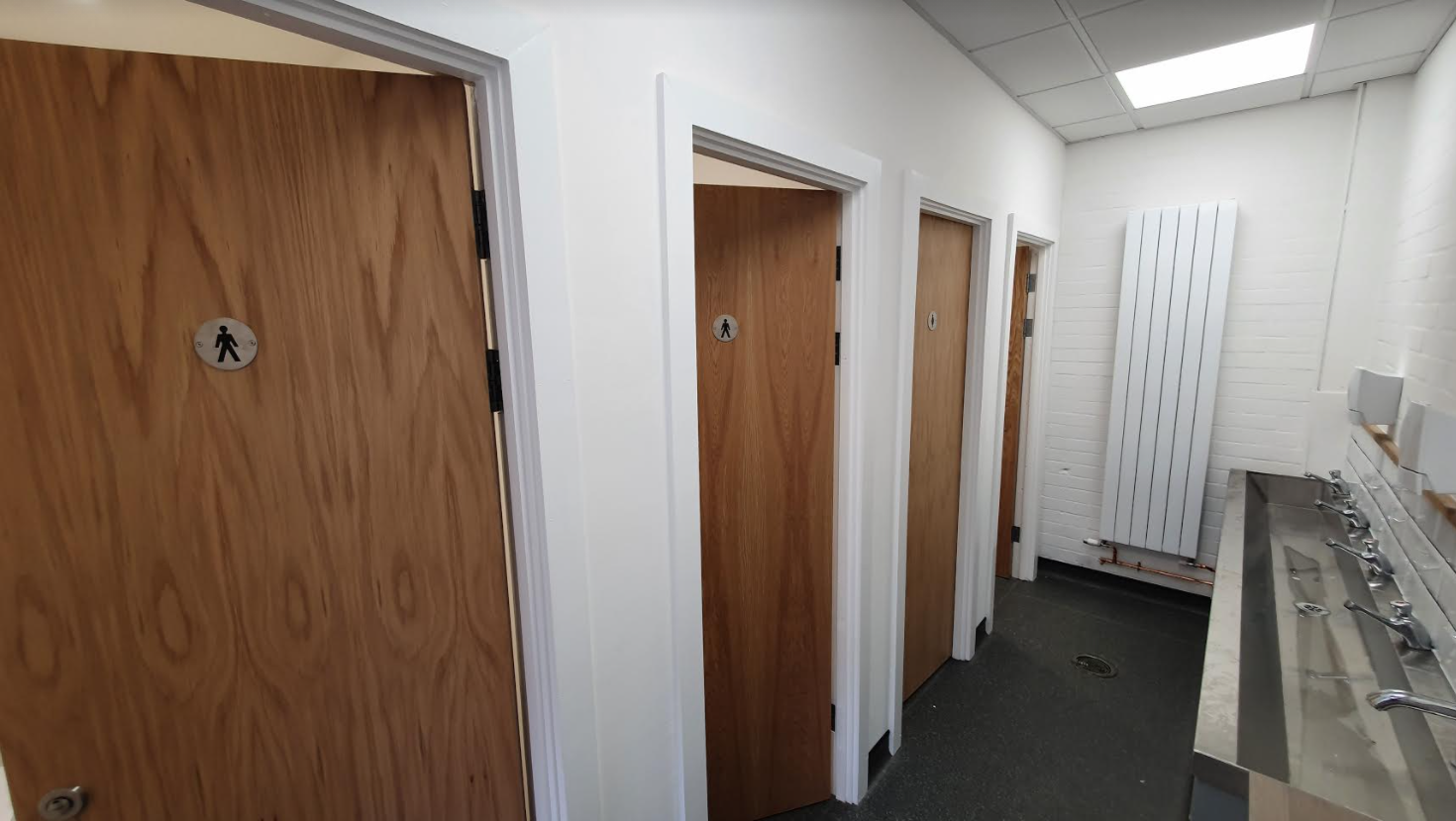 Second, a number of parents raised communication as an ongoing issue. I'm aware that this still isn't where it needs to be - and in particular, I'm aware that contacting the school by phone is a real challenge. We are investing in a new call handling system, but this involves replacing the rather antiquated phone lines currently in place. We are planning to do this by the summer, and this will allow us to better handle large volumes of calls. The new system will allow your call to be placed in a queue for example; at the moment, if a caller is already on the line the system can only send you to voicemail, which I appreciate is hugely frustrating.
Third, a number of parents asked whether we have any plans for lockers. I can certainly understand why this is such a popular request, but having worked both in schools with and without lockers, there are a few significant problems with introducing lockers. The main one for us is space; we're currently around 1,200 students, and based on current applications we expect to grow to around 1,450 over the next two years. Putting in this many lockers would make the corridors incredibly cramped. At busy times, with students trying to get to their lockers, this would make the corridors dangerously overcrowded.
Even if we could put them in, we'd have to spread them around the school, and students would then have to either give up some of their break time to go to their lockers, or be late to lessons. Lockers also create other problems - keys get lost, locks are broken and the lockers end up not being secure and so on.
For those reasons, I don't feel it would currently be the right approach. However, there are some things we can and will do to help solve some of the related problems:
First, we keep students' exercise books and resources in classrooms. This means all students need to carry in their rucksack on a normal day is their pencil case, their planner, a reading book - and perhaps a coat, a water bottle and a packed lunch.

Second, I understand bringing ingredients into school for cooking lessons adds weight (and can be messy!). We're planning to move to a system where we provide all ingredients in return for a small charge, and we will update parents on this soon.

Third, I understand that parents are concerned about items going missing from PE changing rooms. We do take this really seriously, but in almost all cases when we've investigated it's emerged that students have either mislaid items of clothing, left their bag lying around in the playground or a classroom, or it emerges that someone else has picked up their bag in error. In most of these cases the items have reappeared in lost property after a few days. As an example, we currently have several unnamed sets of sport kit waiting to be collected! As a short term measure, we are now asking Year 7 (who have lost the most kit by some way!) to change back into uniform at the end of PE so that they can check they have everything. Longer term, we're exploring with HALO Leisure (our Sports Centre operators) the option of doing some work in the changing rooms to provide better storage solutions. I will keep you posted.
I hope that while the the above information certainly hasn't covered every comment in the survey, it provides some reassurance to parents that we continue to improve our standards as a school, and I am looking forward to reporting back on some of this progress in a year's time!