Gloucester District Athletics – 2019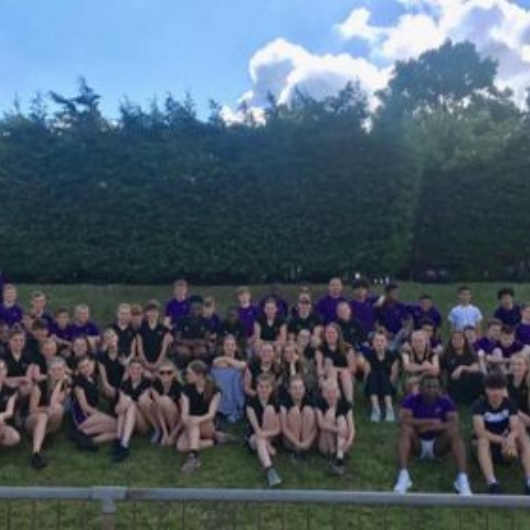 Well done to all the athletes who superbly represented Holmleigh Park in the Gloucester District Athletics at the Prince of Wales Stadium, Cheltenham on Friday 21st June. Nearly 90 students competed against twelve other schools from across the city with Holmleigh Park finishing closely behind Crypt and Kings. There were some notable individual achievements alongside the great team success. Attention now turns to Sports Day on Tuesday 2nd July.
Medal Winners
Congratulations to all the medal winners from the Gloucester District Athletics. It was a very impressive day for Holmleigh Park with 25 medal winners in total. Particular mention to Jaiden Deakins, Amos Asemota and Beth Bird who all picked up three individual medals. In addition seven schools records were broken on the day – Jaiden Deakins (Yr7 boys 200m), Cheyenne McNulty (Yr9 girls Javelin), Riley Budding (Yr10 boys Javelin), Beth Bird (Yr10 girls Javelin/Discus), Welch Noussi (Yr10 boys discus) and years 7 and 8 boys relay.
Gold Medal

Yr7 Boys 200m – Jaiden Deakins
Yr8 Boys Discus – Amos Asemota
Yr8 Girls High Jump – Jordan Yiollaris
Yr9 Girls Javelin – Cheyenne McNulty
Yr10 Boys 100m – Will Day
Yr10 Boys Javelin – Riley Budding
Yr10 Girls Discus – Beth Bird
Sliver Medal

Yr7 Boys 100m – Jaiden Deakins
Yr7 Boys Long Jump – Jaiden Deakins
Yr10 Boys 4 x 100m relay
Yr10 Girls Javelin – Beth Bird
Yr10 Girls High Jump – Sara Kopacz
Yr10 Girls Triple Jump – Beth Bird
Bronze Medal
Yr7 Boys 4 x 100m relay
Yr8 Boys 100m – Amos Asemota
Yr8 Boys 200m – Amos Asemota
Yr8 Boys Discus – Jacob Goodhall
Yr8 Boys 4 x 100m relay
Yr8 Girls Javelin – Lucy Miller
Yr9 Boys 100m – Riley Shakes Giles
Yr9 Boys 800m – Jahvon Davis
Yr10 Girls 200m – Sara Kopacz
Yr10 Boys Discus – Welch Noussi
Yr10 Girls Javelin – Kiannah Hawkins-Shere
Yr10 Boys Shot Putt – Riley Budding