Letter From the Head - 12th June 2020
Dear all,
Being the Headteacher of a locked down school isn't always fun, but I've hugely enjoyed the last week and I wanted to share some highlights:
First, we've been working hard in school to prepare for the partial return of Year 10 and some Year 12 students from Monday. I know that my staff are hugely looking forward to seeing them again, and I'm confident our provision will be a valuable addition to our online learning. We've been hard at work updating our COVID-19 risk assessment to prepare for this, and if you want to know more about the precautions we're taking before deciding whether to send your child in, you can view the latest version here. We've also put together a video briefing for students here, which gives more information about what to expect on returning to school.
Second, on Monday, we kicked off our live teaching in Year 12. The majority of lessons this week took place over Google Meet. I joined in with a few myself, and it was wonderful to see our students asking and answering questions in real time. I'm delighted that attendance has been 100% all week – even better than normal!
Third, Prom is back on for Year 11. We've pencilled in Friday October 9th. Of course, we'll be paying close attention to Public Health Guidance, and if needed we'll push the date back again – but no matter how long we have to wait, Year 11 will get the Prom they deserve.
Fourth, I had the chance to meet many of next year's Year 7 students and parents in a series of Google Meets. It was wonderful to see how excited they are about joining the school, and I'm looking forward to welcoming them in person soon.
And finally, over the last two weeks we've been running a process to decide on our new House Names. We had lots of wonderfully creative suggestions from students, and put the best four to a vote this week.
I'm therefore pleased to reveal that our four new houses are: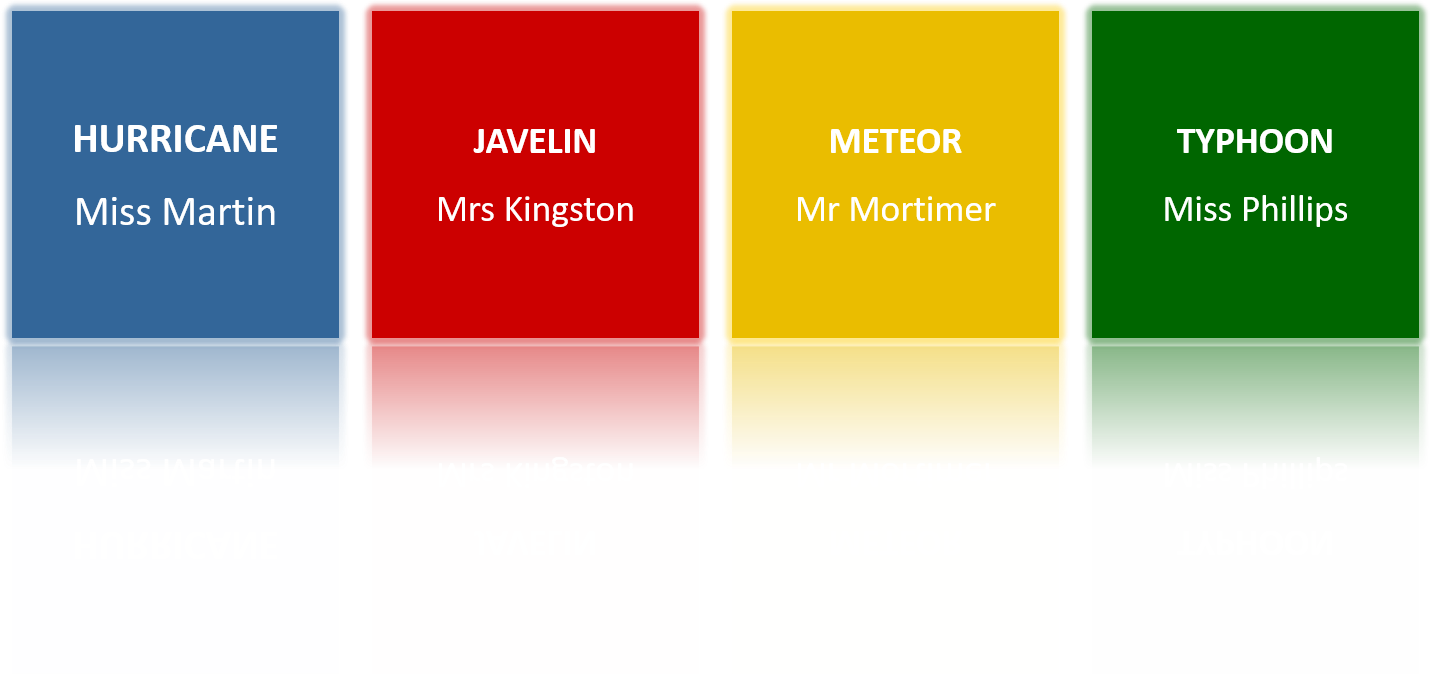 The winning names of Hurricane, Javelin, Meteor, Typhoon are based on the four most famous planes built by the Gloster Aircraft Company, which was based just up the road in Hucclecote. With a new Head of House team in place for September, we're looking forward to launching a dramatically expanded House Competition come September, with House Points being accrued throughout the year and regular competitions not just in Sport, but in performing arts, academia and other areas too. Watch this space!
Best wishes,
Mr Farmbrough