Letter from the Head - 25th September 2020
In this issue: A letter from Public Health England, Autumn arrives at HP, and a House Competition Update.
Dear all,
It has been a quiet week - but in the best possible sense. The school has felt very normal, with students focusing on being in lessons and working hard.
At present, our attendance has remained well above the national average, and I'd like to thank you for your support and trust - both sending them into school, and self-isolating when needed to keep everyone else safe. Public Health England have also asked schools to pass on a letter regarding attendance, which I have attached at the bottom of the page.
The weather has definitely started to turn this week, and we've had some cold, wet breaks and lunches. Part of our COVID strategy involves keeping students outside as much as possible, so please make sure your child brings a coat to school if it is likely to be bad weather. We have also started building an additional covered area in the playground so that each year group bubble has access to some covered space during their social times.
We have also had a fantastic turnout to our after school clubs, with close to 300 students attending at least one club this week. As a reminder, the after school timetable can be found here, and I'd strongly encourage you to have a look through what's on offer, as we've added some more clubs since I last circulated it!
Finally, a quick update on the House Competition. Meteor remain in the lead, but the race is definitely tightening up. You can see the scores as of Friday afternoon below - or click here to follow in real time! Well done to everyone who has so far won a House Point!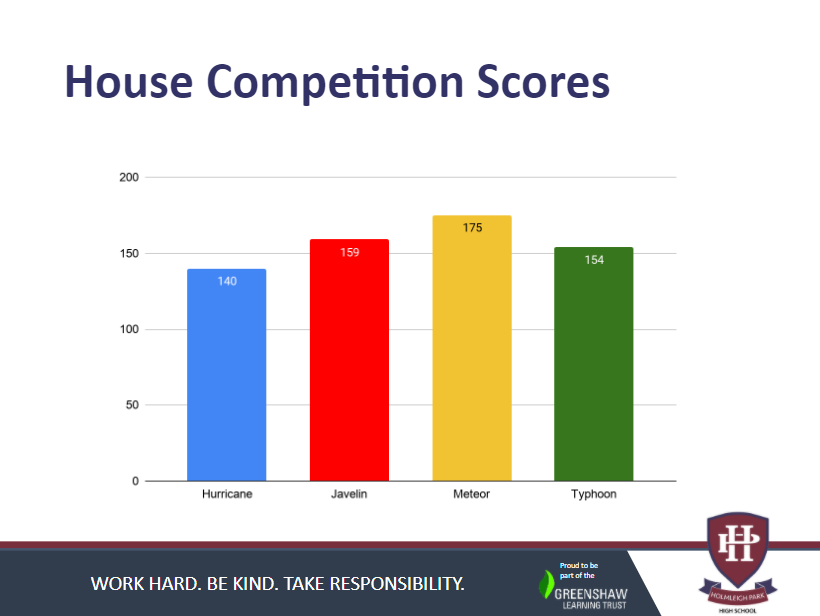 I hope you have a very restful weekend, and enjoy whatever is left of the sunshine!
Best wishes,
Mr Farmbrough