Letter from the Head – 1st May 2020
Dear all,
It's now been four weeks since we moved online, and I thought this would be a good time to reflect on how we're doing.
Some of you may have seen the BBC Newsnight report this week, which looked at remote learning. I wanted to share a graphic from the programme which really struck me, showing how many students are completing work every day in different types of school.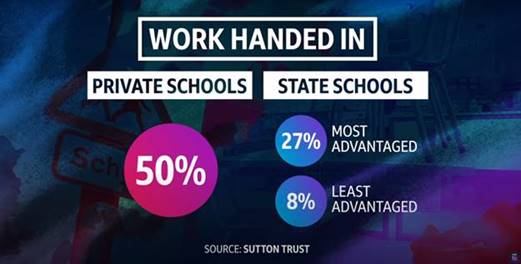 I found it shocking just how great the divide is between the most advantaged and the least advantaged schools. The implications for students in less advantaged communities are very worrying.
But, it also made me proud. That's because, officially, Holmleigh Park would fall into the "least advantaged" category.
I don't buy that, and neither do our staff.
We've always believed that our students deserve nothing less than the absolute best education possible. And so we're delighted that the vast majority of pupils are continuing to hand their work in every single day. In every single Year Group (even Year 11, who no longer have to take their GCSEs this summer!) we are ahead of the average private school. Thank you so much for your support making this happen. Our first school value is work hard, and you and your children have really lived up to that. It will make a huge difference when we return to school.
Of course, this doesn't mean we're getting everything right! At the end of our first online week, several hundred of you completed a survey to let us know where we could improve. Since then, we've made significant changes to our online school, and I'd be really grateful if you could take two minutes to click here and fill in a survey.
I wanted to share four other notices:
First, many of you have asked if there's an easy way to see what your child is studying each day. The answer is yes! Earlier this week, you should have received an email inviting you to be a Google Guardian. If you decide to sign up, you'll get an email (you can choose between daily and weekly) summarising what work your child has been set, and what they have and haven't handed in.
Many of you have also asked if we have any more exercise books; and we're delighted to hear they're being filled up! We are leaving a pile outside reception between 08:00 and 15:00 every school day – you are very welcome to help yourself, but please do follow social distancing guidelines when picking them up!
We had a fantastic response to this week's Fun Friday Loo Roll challenge. You can view the entries from across the trust here – I'm sure you'll agree that the HP contributions are the best!
Finally, next Friday is a bank holiday to mark the 75th anniversary of VE Day. Students will not be set any work, but we'll be putting together a special assembly to mark the event.
I hope that you and your families are well,
Mr Farmbrough
Headteacher