Letter from the Head, 6th December 2019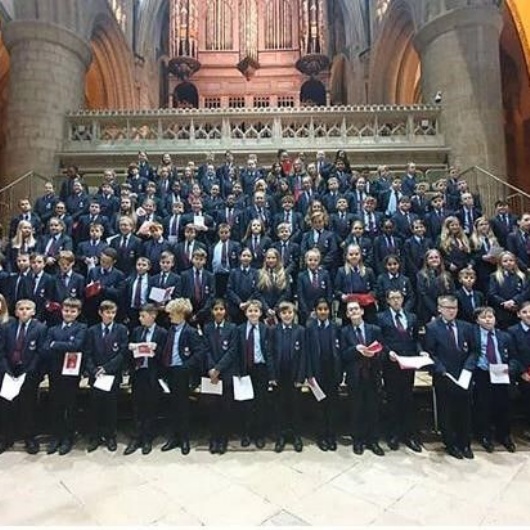 Dear all,
What a week!
Tuesday evening saw most of Year 7 head to Gloucester Cathedral for our first Greenshaw Carol Concert. They were an absolute credit to the school; not only were we the largest choir present, but they had the very difficult task of opening the evening with the first performance. They sang their hearts out, and it was wonderful to see so many students experiencing the joy of singing together in a magical session. Archie Farr sang his solo beautifully, and Louie Jewell gave an immaculate reading (again, the first of the night – no easy task!). Our choir then joined with our Greenshaw sister schools – Yate Academy, Blaise High School, Five Acres High School and Henley Bank High School for the finale. I was delighted that Adara Maslen was chosen from over 500 students to lead the massed choir with the final solo of the night.
I also enjoyed seeing our students meeting their peers from other Greenshaw Schools; we welcomed the other choirs at Holmleigh Park for the dress rehearsal in the afternoon, and our students were very gracious hosts. I could not have been more proud of them all and am looking forward to sharing the photos and videos with you once they have been edited. Huge thanks must go to all the staff who gave up so much time to make the event possible.
Watching the entire Year 7 cohort sing together every week in choir has been a real highlight for me this year – and reflects our commitment to ensure a broad and balanced curriculum, even when many other schools are narrowing theirs. Art is another area we remain strong in, and on Thursday, we welcomed back Richard Graham (Gloucester's MP in the last Parliament), to announce the winner of his annual Christmas Card competition. Aaliyah Major Nasser's card was the winner from close to 400 entries, with Isabelle Farr, Shakira Ali and Poppy Wall selected as runner's up.
We have had a number of sports matches this week, but I've just come back in from my sporting highlight of the week – watching the Year 7 Boys' Rugby C team beat Pates 35-20. It's a fantastic reflection on the enthusiasm of our students and the dedication of the PE Team, that we're not only able to put out three Year 7 rugby teams, but that we can compete with and beat the top schools in the country.
Finally, please can I remind you of the Parent Forum I'm holding next week from 17:00-18:00 on Thursday 12th December. I'd be grateful if you could register to attend here. As I mentioned in my last letter, please be aware that it will be an open forum to discuss how we can work together to improve the school – so I won't be able to discuss individual student cases publicly.
Best wishes,
Mr Farmbrough
Headteacher