Edulink
We launched our new parent app, Edulink in the October 2020 Half Term.
We've decided to use Edulink because it will help us communicate through one, single portal. You can access Edulink directly from your browser, or by downloading the app on iPhone or Android (using the links below).
Initially, it will allow you to view key information like your child's timetable, attendance and even what they're purchasing in the canteen! Over time, we will switch to Edulink for most communication, allowing you to report absence, receive updates and alerts from the school, book parent evening appointments and so on.
Parents have received emails with details on how to activate your account. Please do consider using the app - we hope to start using it as our main communication channel from January 2021 so we are keen to get as many parents signed up as possible! For more information, please click here.
Why use Edulink

Update Information
This section shows the current data we store on you and your child/children. Changes can be made by adding a new address/telephone number/email address and clicking the green 'Save' button. When information is updated in EduLink, this will be checked and approved by the office team
Timetable
This section allows you to view your child's timetable, including the lesson times and teachers.
Catering
Your child's remaining balance can be checked here, in addition to the date, time and product purchased. Balances cannot be topped up here, you will need to visit the School Links section of the app to access ParentPay and increase the balance on the account.
More coming soon...
Whats my username?

If you have not recived your parent login name yet please contact [email protected] with the following information to help us process your request.
Full Name of the Student
Year and Tutor group
Relationship to the student
Date of Birth of the student
Using a web browser:
These steps will work on browsers including Chrome, Firefox, Safari
Enter the username and password you have been sent by email
Click Log in to get started
Click the cog icon and 'Change password'
Type the password from your email in the 'Old Password' box and new password in the fields below.
Using the mobile app:
These steps will work on iOS and Android devices
Ensure you have either a pin or biometric identification setup on your device, in order to be able to log into the app
Download the App
Enter the School ID (holmleigh)
Enter your username (in the format hp_name) and your password
Click Log in to get started
Setting a Strong Password
The Information Commissioner's Office (ICO) confirms that a strong password will:
be long (at least 8 characters);
include a range of characters, such as:

Uppercase and lowercase letters
Numbers
Punctuation marks
Other symbols

not contain dictionary words, where possible;
not include simple substitutions of characters, e.g. "p4$$w0rd";
not include patterns derived from the keyboard layout, e.g. "qwerty".
We advises all parents to use strong passwords to protect the confidential personal information contained within EduLink. Parents should also avoid using obvious choices of passwords, such as the name of your child or pet, as someone could find such information elsewhere.
Do Not Share Passwords Never disclose your password to another individual, whether this be a family member or other individual, for any reason. If you think that someone else knows your password, change it immediately.
Parents can change their password in the web browser and in the app by clicking on the settings cog alongside their name and selecting 'Change Password'.
The old password should be entered and a new password entered twice before clicking the 'Update' button.
Common known issues and solutions
Error message when trying to join a one-to-one meeting during Parents Evenings :
"Browser does not support video calls"
This issue happens mainly from smartphones.
When a parent or teacher logs in Edulink (wether through the app or directly on the website), goes to the parents evening section and click on "Start appointments" , they get an error message saying that the browser does not support video calls , and they can not get on.
Cause : The internet browser used is not compatible. If using the Edulink app, it automatically starts the *default* internet browser which might be the one preinstalled by the phone's manufacturer (Samsung, Xiaomi,....)
Solution : Install Google Chrome on your phone. and set it as the default browser. If it is already installed, you would need to set it as default.
Steps to change the default browser (these steps are for indication only as the menus vary depending on the smartphone model) :
Example with a Samsung Galaxy Smartphone :
Launch the device Settings.
Choose the Apps (or Applications) tab within Settings.
Next, tap on Default apps.




Now look at the Browser app, does it say "Chrome" as per below ?




If it doesn't, please tap on "Browser app" to change it.
Select the radio button against the "Chrome" browser and set it as your default browser.

Example with a Xiaomi Redmi Note T Smartphone :
Open the device's Settings.
Scroll down to "Apps" and tap it.
Then select "Manage apps"
On this new screen, tap the 3 dots on the top right corner of the screen :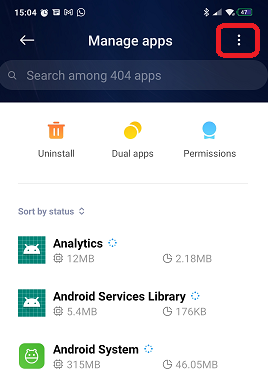 On the menu that appears, select "Default apps" :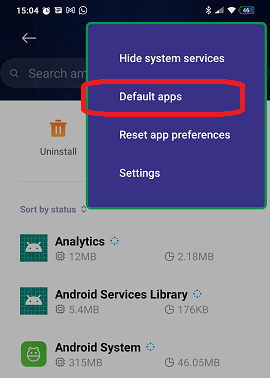 Then, find the line about the "Browser". The selected one needs to be Chrome. If it is not, tap that line :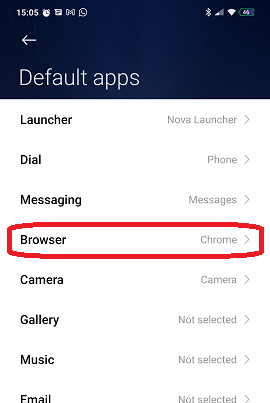 And select "Chrome" in the list :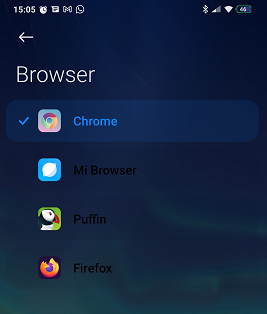 If Chrome is not in the list, this means you need to install it first from the PlayStore.